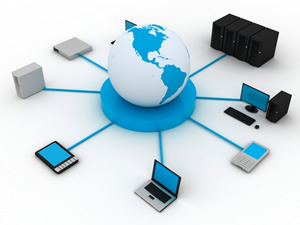 Service. Solutions. Now.
Click here to enter our ticketing system.
Computer Studios is highly experienced with a wide range of operating systems and hardware. We can architect, implement and assist our clients with the physical backbone of their information technology solution. Whether based on Microsoft, Novell-Linux or Macintosh, we will help you resolve your technology challenge quickly and expertly. We provide servers, network infrastructure and workstations.  We want our customers to have reliable backup systems so they don't lose data.  We want our customers to have access to their data from wherever they need it.  We help keep the data secure.  In short, we focus on the technology so you can focus on your business.
We help businesses use the Internet from the planning stage clear through the ongoing maintenance and upkeep phases. Let us help with your email system, firewall, virus protection and security for your Internet and network infrastructure.
Let us manage your network, so you can manage your business.
24/7 Monitoring  PC & Server Maintenance
[contact-form 8 "Service Contact"]
•  24/7 Network Monitoring
•  Remote Desktop Support
•  Virus Scans & Removal
•  Spyware Scans & Removal
•  Live Help-Desk Support
•  PC Maintenance & Repairs
•  Network Troubleshooting
•  Firewall Setup & Support
•  Printer Setup & Support
•  New Computer System Setup
•  Data Back-up
•  Data Recovery
Put our "Best Practices" experience to work for you
Our "Best Practices" program helps clients avoid pitfalls they didn't even know about. You get to learn from the mistakes of others without having the painful and expensive learning experience yourself.  Mistakes of all kinds can and will happen around computers. They carry our most important and current work, so those mistakes can be costly. Some can even devastate a business.
Here's the short list: make frequent backups and test them. Use power protection. Use virus protection on your workstations, and if appropriate, on your email system. Consider who can do what with your corporate data. Prepare a plan for various disasters and test it. Know your current infrastructure and its weak points.